Clinique Matrice – Providing Permanent Hair Removal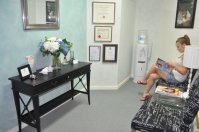 Brisbane based Electrolysis Clinic for Women
Clinique Matrice is a discreet, Brisbane-based electrolysis permanent hair removal clinic for women, specialising in permanent hair removal using the latest technology in a relaxed and comfortable environment.
Electrolysis is not the same as laser hair removal.
Electrolysis is the perfect alternative to laser hair removal to ensure 100% truly permanent hair removal. Suitable and effective for all hair and skin types, Electrolysis brings permanent relief for women across the world.
It is estimated that 40% of girls and women have some degree of unwanted facial hair. Most who attend Clinique Matrice have for some time been using other 'temporary' methods of hair removal including;
Tweezing/plucking
Waxing
Depilatory creams
Shaving
Laser hair removal
Electrolysis Permanent Hair Removal
in Brisbane
Whilst these methods provide a temporary solution to the problem, they invariably make the condition worse and can lead to skin irritation and scarring.
Unwanted hair can cause self-consciousness but the sense of relief felt by making contact with the clinic and taking the first step towards solving your problem can be great. Remember, you are not alone.
For more than 100 years electrolysis has been recognised as the only permanent hair removal treatment. With state-of-the-art technology, the majority of clientele experience no discomfort and very few after effects. Tiny probes remove the unwanted excess hair quickly and with much less sensation than plucking, waxing or laser hair removal.
Clinique Matrice is located away from the hustle and bustle of the busy High Street and Shopping Malls, carefully selected to assure our clients discretion and privacy.
We look forward to being of service; contact Elaine today for a free consultation.
Permanent Hair Removal
Electrolysis permanent hair removal is suitable for all hair and skin types, and all ages from adolescence and beyond, differing from laser hair removal in this and many other ways.
Find out more about the world's only truly 100% permanent hair removal with electrolysis.
(07) 3871 3377