Mesopen combines microneedling with electroporation and fusion mesotherapy to deliver sterile vital vitamins and minerals into the deeper layers of the skin. Target specific skin concerns, such as acne, large pores, lines and wrinkles.

Talk to Elaine to find out more about microneedling treatment and book your free consultation.
collagen induction therapy
What is mesopen Fusion therapy?
Fusion Mesotherapy products are the most advanced, sterile and highly concentrated ingredients to target specific skin concerns such as lines, wrinkles, loss of firmness, large pores, pigmentation and acne.
These sterile formulations were developed to enhance the results of Microneedling and or Electroporation, by the introduction of sterile vital vitamins, minerals, growth factors and peptides, into the deeper layers of the skin.
Ideal for almost all skin types
Mesotherapy treatment is suitable for almost all skin types and for a wide range of benefits for ladies of all ages from anti-aging and collagen regeneration to reducing scarring and treating acne.
Using a combination of Mesopen Fusion Mesotherapy, Microneedling and Electroporation at Clinique Matrice, we can help you with:
Microneedling, also known as Collagen Induction Therapy (CIT), is a minimally invasive skin rejuvenation treatment. The treatment uses tiny, sterile, medical grade microneedles to vertically pierce the skin and produce hundreds of micro channels to break up old collagen and trigger the synthesis of new collagen.
This results in skin tightening, reduction in the depth of lines and wrinkles, acne scarring and large pores. It can also improve stretch marks and scars.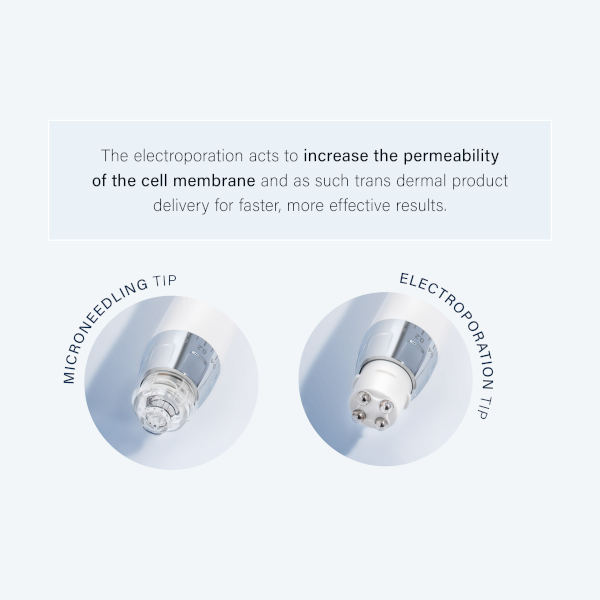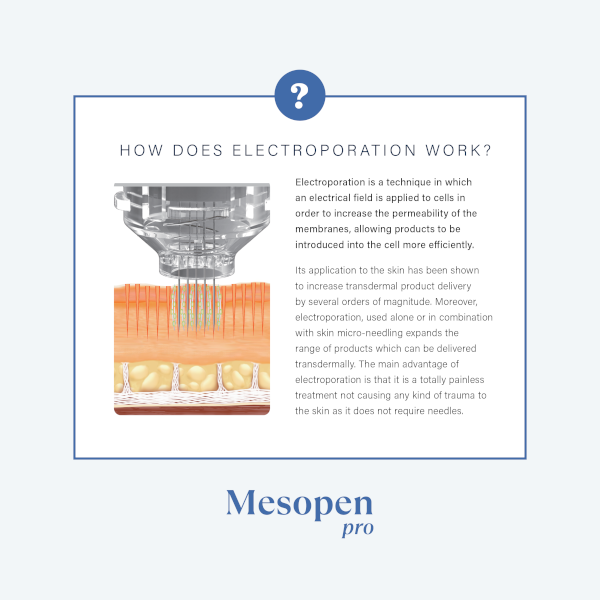 Electroporation or Transdermal skin delivery, uses pulsed electrical current to open channels in the skin. This allows the transfer of important, therapeutic vitamins to penetrate to deeper levels and into the skin cells, which can target specific skin concerns.
It increases the effectiveness of skin needling. It can also be used as an alternative to Microneedling as a 'no-needle' option, where indicated. Perfect for those wishing to realise the benefits of microneedling without the needles.
Talk to Elaine to find out more about mesotherapy microneedling with electroporation.
mesopen microneedling as an anti-aging treatment
Over the course of your treatments with the Mesopen, there is a boost in cellular activity. Collagen production is improved, and elastin strands begin to reconnect with the surface layers of the skin. This helps to smooth the appearance of the skin and fine lines, scarring, wrinkles and sagging are reduced.

This type of low-impact anti-aging treatment is suitable for most skin types and suits women of all ages thinking about anti-aging therapies.

A needle-free approach is also available, which uses tiny electrical pulses (electroporation) to drive the topical nutrients down into the skin.
Treating problematic skin with Mesopen and electroporation
Careful assessment and preparation are important when acne, psoriasis and other types of dermatitis cause discomfort and pain. Microneedling is not always the best approach to treating severe acne, for example, where the skin is often damaged and sore.
Mesotherapy with Mesopen and electroporation instead uses tiny electrical currents to increase the permeability of the skin by opening channels in the cellular membranes.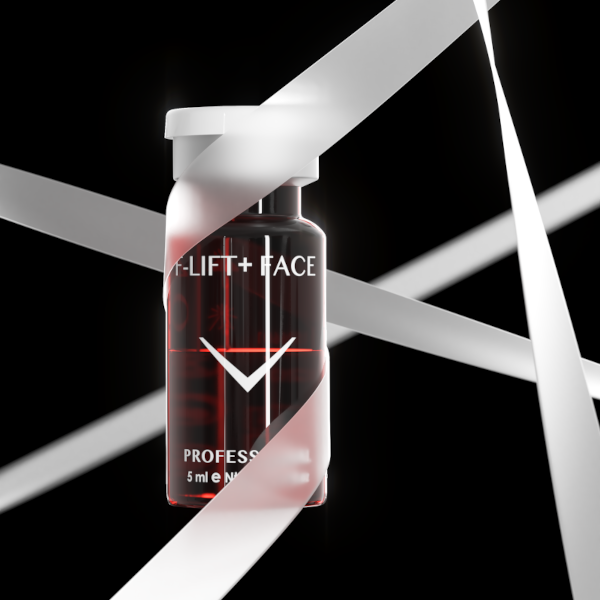 Then the topical therapeutic active ingredients are absorbed into the cells. Treating traumatic skin conditions in this way helps to clear the skin and reduce painful inflammation.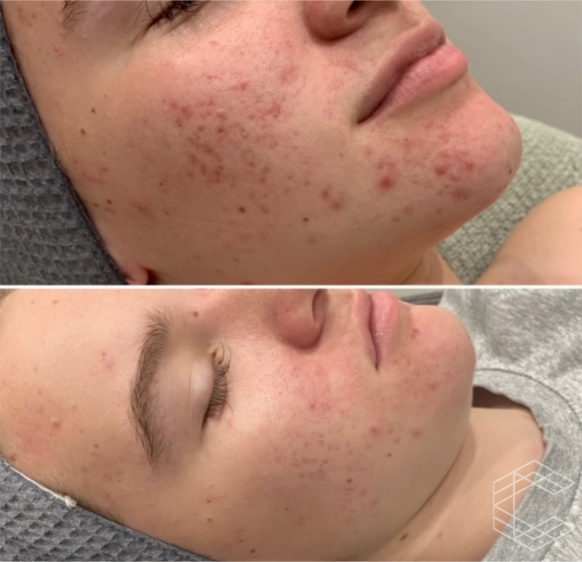 Frequently Asked Questions About Mesotherapy
Elaine offers a free consultation to all Mesotherapy clients, where she will assess your skin, understand your goals and help you find the best way forward. Here are some of our most frequently asked questions about microneedling.
What if I don't like needles?
Not every client is suited to Microneedling. Electroporation is a good alternative in these circumstances.
How long does a session take?
Mesotherapy sessions at Clinique Matrice last for 60 minutes. Allow enough time before your appointment to relax and do the paperwork.
How many sessions will I typically need?
The number of treatments required will depend on many factors, including your own skin goals, current hydration levels and the condition of your skin in relation to your personal goals.
Elaine offers a free consultation to all Mesotherapy clients, where she will assess your skin, understand your goals and determine the best way forward for you. For the best outcome, we highly recommend six treatments, but a minimum of three.
Do you use hypodermic syringes?
No. Mesotherapy at Clinique Matrice is done with the latest Mesopen technology. The Mesopen has a series of sterile, medical grade needle tips within the small head.
How soon will I see results?
Clients often see improvement after the first week. New collagen is formed over 90 days and up to 6-12 months. The effects of the treatment therefore builds over time.
Does it hurt?
The skin needling is microscopic trauma at a shallow depth of skin, which lasts a short period of time. Most experience a tingling sensation which passes quickly. Numbing cream can be used to block sensation for deeper treatments.
Is there any downtime?
In most cases, there is some redness following treatment. However, most recipients of Mesopen and Fusion therapy only have a mild reaction and can return to a normal day after the treatment. Full post treatment instructions and after care products will be given.
Is Mesotherapy suitable for everyone?
Mesotherapy is suitable for a wide range of skin types, but a free, 30-minute consultation is given to ensure you are a suitable candidate for this type of treatment.
Is it safe?
Mesotherapy treatment is carried out in a sterile work environment at Clinique Matrice. Full pre- and post-care instructions are given.
Are there any risks?
Mesotherapy is a topical, minimally invasive procedure which encourages natural skin healing to produce new collagen. Our clinic observes strict hygiene and cross infection protocol.
ready to book your consultation?
Book your free, 30-minute mesotherapy microneedling consultation today. Skin assessment and treatment plan included.
Call Elaine today on 0402 046 637 ~ appointments by prior arrangement only.