DermaLux LED Light Therapy
Non invasive skin treatment with anti-aging effects
DermaLux LED Light Therapy is the latest go-to anti-ageing therapy for celebrities and has been voted 'Treatment of the Year' for five consecutive years by consumers all over the world.
Clinique Matrice is delighted to offer our clients this award-winning Dermalux LED® Compact facial therapy in the home-from-home comfort of our Brisbane-based medi spa clinic.
Enjoy the anti-ageing benefits of LED light therapy
Accelerate post-operative healing and recovery
Treat acne and other skin problems without steroids
And more.
Enhancing your natural glow with LED Light Therapy
DermaLux LED therapy uses the power of light to rejuvenate and stimulate tired skin at a cellular level. The results are visible for most clients after just one treatment with no discomfort or downtime.
The revitalisation of your complexion helps to promote a healthy appearance and a more youthful look through a combination of clinically proven light wavelengths delivered with the latest LED technology. Safe and immediately effective, LED light therapy is the ideal alternative to invasive surgical procedures for refining the skin.
Treating existing skin conditions with healing light
There are proven benefits of the use of LED phototherapy to provide relief and treatment for those suffering with existing skin and other conditions such as:
Acne
Psoriasis
Burns
Rosacea
Post-operative bruising and swelling
Fast, safe and gentle on all types of skin, LED Light Therapy can offer a non-invasive, drug-free approach to sufferers of all ages.
What is LED Light Therapy?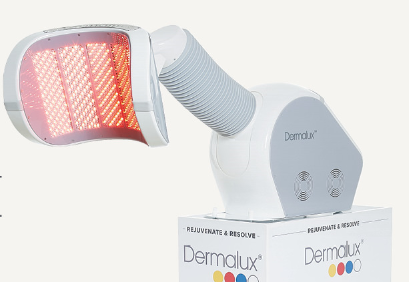 LED Light therapy targets the skin at tissue, cellular and subcellular levels within the mitochondria. Working to reduce the natural overproduction of oxygen cells within the tissues that occurs as we age or in some skin conditions, the light waves can help to ease inflammation and promote the regeneration of new tissues and the repair of others.
Treatment plans can be tailored to your unique needs and circumstances using Dermalux Compact at Clinique Matrice in Elaine's holistic, ethical and comprehensively confidential approach to your consultation.
What happens during your LED Light Therapy treatment?
Before your Dermalux LED Light Therapy treatment at Clinique Matrice, you'll talk to Elaine in depth and she'll tell you everything you need to know and answer any of your questions about the therapy and your proposed treatment plan.
At Clinique Matrice you can enjoy exclusivity at our discreet, home-based medi spa clinic. We offer a range of natural anti-ageing facial therapies in a relaxed, comfortable environment thoughtfully designed to provide a stress-free, tranquil setting with your comfort as a priority. Whether you're attending for a single visit or as part of an ongoing treatment plan, you can be assured that you're in good hands.
Elaine is passionate about holistic skin care and natural anti-ageing, and placed emphasis on treating her clients from the inside-out. Should you need further treatment for your skin condition, Elaine will refer you to an appropriate, holistic or medical practitioner. Call Elaine today to arrange your no-obligation consultation on (07) 3871 3377
Watch the video below to find out more about how Dermalux LED light therapy works
Other natural anti-aging facial treatments available at Clinique Matrice
Talk to Elaine about Oxygen Therapy